By Denise Turney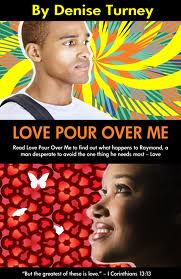 I was almost finished editing Love Pour Over Me when I started writing my next novel. Looking back, I think that's the way I've always managed the creative side of my writing career. The process keeps me from getting too attached to the book I've just finished writing. This, in turn, allows me to keep moving forward, ready to receive the next fiction story that surfaces within me.
Writing the first draft of a new book is fun. It's also the most challenging part, especially considering the fact that I've learned how to cut the fat out of a story without feeling like I'm taking blood from myself. Oh, the despair, the dread I felt years ago when it came time to start editing and cutting away at a story I'd spent months laboring to pull together. Although I can't confirm it, I imagine that most authors struggle with this part of the writing process.
As I'm experiencing with my next book "Gada's Glory" (working title), I feel exhilarated while I'm creating a new book. It's so much fun! The process is pure – purely creative. There's no need to focus on marketing, promotions, etc. during this process. I don't have to spread the word about a new novel I'm creating because it's all mine . . . for now.
It's like being in a laboratory, trying this and that, creating intriguing characters and placing them in challenging and/or rewarding scenes. In time I start rooting for one or more characters and disliking other characters. Amazing how this happens considering the fact that I'm the one who's creating all of the book's characters. Oddly, with Love Has Many Faces (sold out) a character I loved (Leslie Fletcher) was absolutely hated and despised by readers. That was a first for me. Leslie made a lot of mistakes, many of which deeply hurt innocent people, but she evolved and awakened by the end of Love Has Many Faces; however, readers were not up for dismissing her prior mistakes.
Which brings me to another point I love about starting on a new novel . . . I love working with emotion! It may well be my biggest payoff as a book author – hearing from readers, especially readers who are emotionally charged about a scene or character. I love when that happens!
Malcolm (Raymond Clarke's father) is the guy who pulls loads of emotion out of readers in my recently published book, Love Pour Over Me. Unlike Leslie, readers come to see Malcolm differently by the end of Love Pour Over Me. Guess I got a little better at allowing characters to evolve and awaken. That or Leslie struck a nerve in readers and wouldn't let go.
But that's me . . . what are your favorite parts of a novel? What makes a story a winner for you, the type of book you simply can't put down? Is it the plot, dialogue, an intriguing setting . . . Just what is it about a book that keeps you turning the pages?
I'm sure you can tell; the rewards of writing are a plenty! I love to write, to create stories that pull emotion up within readers like you! Gotta tell you, as a reader, you make my life's work wonderful! Thank you!
Thank you for reading my blog. To learn what happens to Raymond, Brenda and the other characters in Love Pour Over Me, hop over to Amazon.com, B&N.com, Ebookit.com and get your copy of Love Pour Over Me today. And again I say – Thank You!