By Denise Turney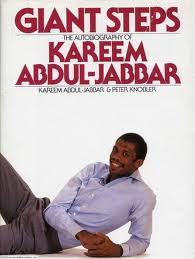 I still remember when I first heard about Kareem Abdul Jabbar.  He went by the name Lewis Alcindor back then. At the time, Kareem was playing basketball for UCLA. Sports writers deemed him to be the guy who could beat, finally beat, the dominating Wilt Chamberlain. Just as people waited desperately for someone to dethrone Muhammad Ali, people waited eagerly for Kareem to enter the NBA.
They didn't have to wait long. After Kareem was drafted by the Milwaukee Bucks in 1969, expectations surrounding him grew. Wilt Chamberlain was so dominant, he appeared to be a Goliath of sorts. Akin to others, I eagerly waited for Kareem to dethrone Goliath. I also promised myself that I'd follow basketball for as long as Kareem played. Had no idea at the time that he'd end up getting traded to the very team (the Los Angeles Lakers) Wilt played on.
. . . Back to the early 1970s. Back to those heady days when change still hung thick on the American landscape.
I sat on the living room floor alongside my siblings, gaze glued to our family's black and white television screen. I wasn't even in the game, and my heart was racing. On the inside, I cheered for Kareem, begged him to win. But, Wilt Chamberlain wasn't having it.
Looking back, I think it was only right for Wilt to hold ground. After all, he was the elder statesman, the guy who'd dominated the game unlike any other professional basketball player had at that time. He deserved to be respected, even by me (smile). And today, I do just that . . . respect his game. . . But not back then. Oh, did I want Wilt to lose.
Of course, Wilt Chamberlain had a stellar career in the NBA. As the ensuing years unfolded, Kareem would do the same, becoming top scorer in the league. His sky hook would become his signature trademark, a shot not often seen today. He's also be voted to play in 19 (count 'em, 19) NBA All-Star games. He'd also rack up at least 40 points in 70 NBA games, not to mention the 61 points he scored while playing at UCLA.
Years later, Kareem Abdul Jabbar showed the world another side of himself, a storytelling side. That (and other) revelations were shared in Kareem's autobiography, Giant Steps, a book that remains my all-time favorite book written by or about a professional athlete. When I consider that Giant Steps wasn't ghost written, it makes the book that much better.
Oh, the flow to Kareem's writing. As a professional writer, I really appreciate his style, his flow. Reading Giant Steps felt like sitting on a porch with a friend, listening to him share his life's story so far. I hadn't been to New York City yet, but felt like I knew the city as I continued reading Giant Steps, felt like I'd been to the Big Apple, a city I would visit for the first time two decades later.
Jim Brown's autobiography, Out of Bounds, is another great sports book. Like Kareem, Jim Brown is candid, incredibly open and revealing in Out of Bounds. Arthur Ashe's, Days of Grace, is another sports book I highly recommend. Through these books, you get to see the soul of a man. In these books, professional athletes seem to care to hide nothing. But, that's not the books' strongest points. It's the conversational style the sports books are written in that make them winners.
Another sports book favorite is Seabiscuit, written by Laura Hillenbrand. This is so fitting, as my favorite athlete of all time is a horse – the one and only, Secretariat. Akin to the struggles central characters in Seabiscuit experience (and overcome), Raymond Clarke (star athlete in Love Pour Over Me) faces high risks and seemingly insurmountable odds. His athletic dreams fuel him forward.
It's a treasure to watch a person do what it takes to achieve her dreams. Having run track in elementary, middle and high school, I know firsthand the work that goes into achieving athletic success. It might look easy, but it doesn't always feel that way when you're in the middle of it. Watching a person do what it takes to earn a lifestyle as a professional athlete is even more commendable. It's truly icing on the cake when a talented athlete, someone who's braved fierce high winds time and again, shares his story with readers in a way only he can.
I'm glad I heard about Kareem Abdul Jabbar all those years ago, when I was a kid. I'm glad that he achieved his dreams, set records and made history. It's also a very good thing that Kareem didn't keep his life's journey to himself, but instead decided to share it while showcasing his engaging writing style. He might not have beaten Wilt Chamberlain right out of college, but he definitely wins-wins-wins with Giant Steps.
Thank you for reading my blog. To learn what happens to Raymond, Brenda and the other characters in Love Pour Over Me, hop over to Amazon.com, B&N.com, Ebookit.com, or any other online or offline bookseller and get your copy of Love Pour Over Me today. And again I say – Thank You! Consider Love.