Meet Raymond Clarke:  Born in Dayton, Ohio in the 1960s, Raymond Clarke is a world class track and field athlete. His athletic exploits have landed him on the cover of magazines like Athletic Ambassador, Track Historian and Sports Hall of Famers. Although rarely discovered, Raymond's academic achievements are on par with his sports accomplishments, earning him Class Valedictorian of his graduating class. He has overcome great odds, tremendous childhood challenges, many of which have stopped millions of other men and women. While at a famous university in Pennsylvania, he shares a myriad of ups, downs and good-good times, as well as harrowing experiences (some life threatening), with three of his best male friends. Raymond Clarke's determination and resilience, and, more importantly, his healed heart, help him see and later accept the woman he was born to love. This fictional character's story is told in detail in the new book, Love Pour Over Me which is available at Amazon.com, Barnes & Noble, Ebookit.com, Google Books, iTunes, print bookstores and libraries.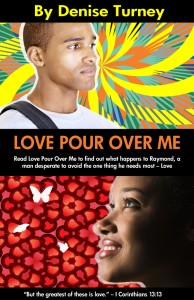 Denise: How are you able to love Brenda so deeply considering the fact that your mom, the most important woman in a man's life, left you?
Raymond: If you've ever known something was right deep in your gut, you'll understand when I tell you I knew, I instinctively knew, Brenda was my woman. Despite all we went through, nothing could disturb that.
Denise: Did you ever go looking for your mother?
Raymond: (Sigh). No. I thought about her a lot, especially when I was a kid, but I never took off and starting looking for my mom. I wouldn't even have known where to start.
Denise: Why did you choose UPemb?
Raymond: Coach Carter (he's probably the closest thing I had to a loving father) and the school's awesome track and field program. Track is my passion. Thank God, I've been very good at the sport since I was a kid. Plus, I got a scholarship to UPemb and with Coach Carter's help I know I can earn a gold medal in the Olympics.
Denise: You hang out with a cool group of friends. What do these guys mean to you?
Raymond: Oh, man. Anthony, Patrick and Doug, these three dudes are my brothers. Sure. We've had our close calls, especially me and Anthony. The two of us have damn near cheated death and more than once. But we always work things out. I love those dudes. They're like family. (shaking his head) We have some good times together! Our ladies get along pretty good with each other too, well. . . most of them.
Denise: Do you keep in touch with your friend from high school, the guy you ran with back in the day? . . . . .
Read the rest of this feature interview at:  http://www.lenasledgeblog.com/2012/09/raymond-clark-interview-by-denise.html
Get your copy of "Love Pour Over Me" Now at –
http://www.ebookit.com/books/0000001582/Love-Pour-Over-Me.html