By Denise Turney
Read Love Pour Over Me and you'll see the impact mental barriers have on us. In fact, I was reminded of this fact today after I returned from a daily walk.
While watching CNN's Starting Point with Soledad O'Brien earlier today I was happy to watch a story about a school that teaches the Quran to Muslim girls, allowing them to read passages in the book for themselves. Through the readings the girls came to see that they were not created to be abused and mistreated.
Talk about a brilliant and joyous sight . . . to see another barrier broken! As I watched the story I thought about the movie The Help and how African American women were afraid to speak out against abuses happening to them in the 1950s and 1960s. As one woman after another shared her story, it became easier to distinguish facts from lies, kindness from manipulation and, perhaps most of all, fear from courage. After all, the fearful attack; it's always a sure sign of fear . . . attack.
We Are Not Our Beliefs
In order to continue to distinguish lies from truth, we have to continue to examine our beliefs, even those practiced or passed down by our ancestors (after all, if our ancestors were as right as we might like to think they were our ancestors would have left the world in a more loving state). We also have to come to see that we are not our beliefs as we didn't create ourselves; but we do create our beliefs. As we see we aren't our beliefs we may come to realize that we are not harmed, weakened, etc. in any way, not the slightest or smallest way, by letting erroneous thoughts or wrong beliefs go.
Plainly stated, letting go of wrong beliefs, erroneous thoughts or illusions will not kill us. We precede our beliefs; what we truly are came first.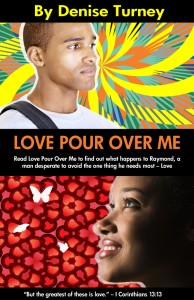 In Love Pour Over Me, Raymond Clarke's erroneous thoughts start early, as they often do. Raymond's father, a man with untreated alcoholism, tells Raymond one lie after another about himself. Evidence he uses to prove he's right in his errorneous thinking might be something as simple as Raymond spilling a glass of milk on the floor or trekking mud in the house on the bottom of his shoe.
Seventeen years of hearing then believing lies about himself causes Raymond to start protecting himself, especially his heart. It also propels Raymond to flee home. It's his next step that changes his life, and the lives of five people he meets at college, forever, that, over a long stretch of time, helps Raymond to start examining lies he's been told, aiding him as he begins breaking inner barriers to love.
As I watched the CNN story, thought about the movie The Help and pondered Raymond's fate in Love Pour Over Me, I couldn't help but wonder if our greatest fear is real love (not the illusion of love we are so keen to celebrate and chase after). Think about it. Is real love what we're trying to attack, trying to steer clear of?
Thank you for reading my blog. Please return often and read more blog posts. To learn what happens to Raymond, Brenda and the other characters in Love Pour Over Me, hop over to Amazon.com, B&N.com, Ebookit.com and get your copy of Love Pour Over Me today. And again I say – Thank You! 
Sources:
Love Pour Over Me – http://www.ebookit.com/books/0000001582/Love-Pour-Over-Me.html