By Denise Turney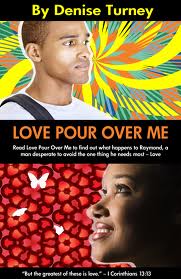 Love Pour Over Me is a book that takes a realistic look at a complicated parent/child relationship. When I first started writing Love Pour Over Me, it was emotionally easy. As I fleshed Malcolm and Raymond out more, it got harder to keep writing at the same fast pace that I had started writing the novel with.
Why? Memories from my own childhood were starting to arise, muddying the process involved in getting the first full draft of the story on paper.
Love Pour Over Me was not an easy book to write
As with each book that I have written, including Portia, Spiral, Long Walk Up, Rosetta's Great Adventure and Love Has Many Faces, bits and pieces of my own history were finding their way into the pages of Love Pour Over Me. Believe it or not, this fact is what makes writing books a boundless blessing.
Once a story dredges up deep emotion in me as an author, I have no choice except to revisit my own unique, personal "real life" past and deal with the emotional root. Authors who do this work can finally go free of personal thought and behavior patterns that may have plagued them for years.
Another blessing that strong emotions offer me as an author is directly related to the novel. Strong emotions that I feel easily transfer to the page. It's this emotion that connects readers to characters.
For me, this is when I absolutely love creating novels.
Adult problems with trying to understand a mysterious childhood
Although I didn't grow up with an alcoholic parent like Raymond (Love Pour Over Me's main character), as with many people, I saw my fair share of struggles as a kid. I tried to understand unclear and hard-to-explain events that were happening around me; like you did when you were a kid, I tried to explain the hard-to-explain through the eyes of a very young child.
It's these attempts to explain the mysterious that can cause childhood and adult confusion. Add the drive to be right and it's easy to see why people like Raymond Clarke get stuck. The thing is that Raymond is not alone. He's not the only person who develops defense systems to avoid future hurts. He's not the only one who keeps expecting childhood survival strategies to work effectively after he becomes an adult.
Here are the seven great reasons to read the Love Pour Over Me book
If you've even once struggled to make sense of your life, especially your childhood, you might get more than you'd imagine from reading Love Pour Over Me. You might see the value in taking the time to do the personal, inner work to finally move forward. Additionally, you might fall in love with Raymond, Brenda, Anthony and other characters in Love Pour Over Me. You might get lost in a very good book.
That alone would be worth reading the nearly 300 page novel that is Love Pour Over Me. Six more reasons to read the Love Pour Over Me book are:
Authentic friendships – After he arrives to college in Philadelphia, Raymond runs into four men, each hailing from a different part of America or the world. These men become fast friends, developing a bond that celebrity, money, women nor disappointments or secrets can break.
Inspiration – Whether you're reading about Raymond's childhood and watching a young Raymond interact with his troubled father, Malcolm, or you're watching Raymond desperately try to keep his heart from Brenda, you may be inspired as you turn the pages of Love Pour Over Me.
Passions on display – Short term relationships aren't the only starring connects in Love Pour Over Me. Raymond and Brenda's tested romance also isn't the only "true gem" relationship that survives this book's shaking challenges.
Remarkable success – Raymond is one of America's top middle distance runners. His is a near matchless athletic talent. But, Raymond's not alone when it comes to uncommon athletic prowess. Anthony more than holds his own on the football field.
Murder mystery – He never asked for it. And yet, Raymond becomes witness to a murder. He also never asked to be closely connected to someone who may have committed the killing.
Changed lives – If our lives don't change, what's the purpose of contrast? You'll be surprised at the Raymond who you see at the end of Love Pour Over Me. You might also finally learn to love Raymond's father, Malcolm.
Give yourself a chance to explore, enjoy and benefit from reading the Love Pour Over Me book
Love Pour Over Me is a novel that recounts Raymond Clarke's life events. Set in Dayton, Ohio and later Philadelphia, Pennsylvania, a portion of Love Pour Over Me takes place in Africa, namely Madagascar. The 1980s is the time period that the story unfolds in. Think the Los Angeles Lakers, smooth R&B cuts, a non-Internet world (can you imagine?!), closer knit neighborhoods, thriving community bookstores, gas prices being at about $1 a gallon, music videos airing all day and the rise of cable television.
You may have been a young adult, teen, child or not yet born then. As you read Love Pour Over Me, you'll get to explore a time that saw many inventions and challenges. Most of all, you'll get to witness the evolution of a man. You'll get the chance to witness the evolution of a family, five friends and a soul mate couple who, despite their hard setbacks, simply belong together (You'll know this for certain by the time you reach the last page of the Love Pour Over Me book!) As tough as it was to write at times, I loved creating the book that is Love Pour Over Me. Now I want you to enjoy reading it.
Ready to enjoy a good book? Pick up your copy of Love Pour Over Me in print or ebook form at Amazon.com by clicking – Read Love Pour Over Me