By Denise Turney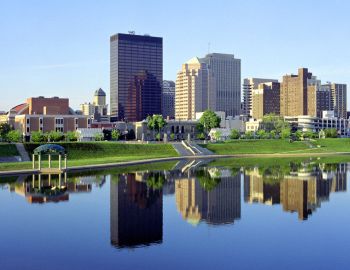 Clearly, the most celebrated professional athlete hailing from Ohio is LeBron James. He's a basketball phenom who 's hometown is Akron, one of the Buckeye state's small cities. Although it's not as small as Akron, Dayon is another small city. But, that's not a big deal; few Ohio cities outside of Cleveland and Cincinnati are what many people would consider to be a "big town."
Dayton Ohio – Small Town Home to Sports Champions
As a Ohio native, I feel incredibly proud and delighted to witness what LeBron James is doing with his athletic talent. The fact that he's handling his life well off the basketball court is icing on the cake. Kudos to Lebron! However, LeBron isn't the only talented athlete from Ohio who's gone on to achieve success. Dayton is another city that has produced sports giants, people excelling at the high school, collegiate or professional level.
For starters, there's Tonja Buford-Bailey. She's a track and field standout who was born in Dayton; Tonja won the silver medal in the 400 meter hurdles at the 1995 Track and Field World Championships. A year later, she won the bronze medal at the 1996 Olympic Games. Dayton born, Tamika Williams, is another athlete who made it to the professional level. She earned her stripes playing for the WNBA's Connecticut Sun.
Another Dayton basketball standout had great success at the collegiate level. Roosevelt Chapman, played basketball for the University of Dayton. Chapman would lead the team to the 1984 NCAA championships. His athletic achievements would later earn him a spot in the University of Dayton's Hall of Fame.
More Exceptional Athletes from Dayton, Ohio
When it comes to baseball, Mike Schmidt and Roger Clemens are two of the most famous athletes from Dayton, Ohio. However, it's at football that a large number of Dayton athletes excelled. Javon Ringer (Tennessee Titans), Mike Nugent (Cincinnati Bengals), Nick Mangold (New York Jets), John Henderson (Minnesota Vikings) and A. J. Hawk (Green Bay Packers) are some of the Daytonians who earned a lifestyle playing in the NFL.
Like Akron's LeBron James, when it comes to athletic standouts, Edwin Moses is Dayton's king. He may be the only professional athlete who never experienced a defeat while actively participating in a sport (track and field) more than 100 times. Edwin won gold medals at the 1976 and 1984 Olympic Games. In addition, he set the world record in the 400 meter hurdles four times. He is truly a champion, an elder statesman of the sport, someone Dayton is proud to call "Son".
It's my love of sports, particularly track and field, that inspired me to develop the main character in my new book, Love Pour Over Me, (Raymond Clarke) as a track standout. As with other athletes mentioned in this article, Raymond is from Ohio. Home for his father, Malcolm, and he is located in West Dayton. Raymond's life, as happens to everyone, is filled with shifts, setbacks and triumphs, one of his greatest being the love relationship he shares with Brenda, a woman with a strong appreciation for life and the outdoors, a remarkable woman from the mountains of Tennessee.
Thank you for reading my blog. To learn what happens to Raymond, Brenda and the other characters in Love Pour Over Me, hop over to Amazon.com, B&N.com, Ebookit.com, or any other online or offline bookseller and get your copy of Love Pour Over Me today. And again I say – Thank You! Consider Love.